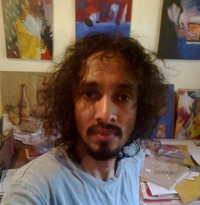 Hi there! I'm Lohan. I make art, write and translate. This site is all about my paintings, drawings, performances, digital and altered art.
Browse through the galleries and feel absolutely free to let me know if you have any comment, suggestion or request!
Check out my art blog and microblog for frequent updates about current work, artmaking process + other thoughts and links.
Unless otherwise specified, all the images shown on this site are licensed under a Creative Commons Attribution-ShareAlike 4.0 International License.